HELP !
I'm searching for :
a Korean connexion, who enjoy korean martial arts, in order to make articles on the Kukkiwon, the Hwarang, the TKD (...) masters in Korea...
a Chinese connexion passionated by Wushu...
any information or connexion on the Sentai world with a link to Martial Arts, such as Uchu Kara No Message, Gaevan, ... even the non-Japanese Mighty Morphins Power Rangers.
any information or connexion on Hiroyuki "Henry" Sanada, Kenji Ohba, Sonny Chiba, ... and the JAC (Japan Action Club)
any information or connexion on the US world of fighting stunts, particularly Jeff Imada, Al Leong, Stuart Quan, ...
any information on the Martial Arts :-)
If you're in charge of (or knows) a good webpage dealing deeply with one of those famous martial artists (linked to entertainment), please email me, I would like to add you in my future database :

(Small gallery below -- )

Bruce Lee (Lee Jun Fan, Lee Xiao Long), Brandon Lee, Mark Dacascos, Jet Lee (Jet Li, Li Lian Jie), Hiroyuki (or Henry) Sanada, Philip Rhee, Jeff Imada, Stuart Quan, Steven Seagal, Jackie Chan, Yuen Biao, Samo Hung, Michelle Yeoh (Michelle Khan), Richard Norton, Angela Mao, Cynthia Rothrock, Chuck Norris, Joe Lewis, Bob Wall, Ji Han Jae, Sonny Chiba, Toshiro Mifune, Tatsuya Nakadai, Wang Yu, Jean Claude Van Damme, Simon Rhee, Hee Il Cho, James Lew, Al Leong, Toshishiro Obata, Jimmy Pham, Ernie Reyes (Jr and Sr), Mike Chaturantabut, Jon Valera, Larry Lam, Chris Cassamassa, François Petit, Robin Shou, Pan Qing Fu, Jim Kelly, John Saxon, Bolo Yeung, Tadashi Yamashita, Takakura Ken, Don Draeger, Benny Urquidez, Mike Stone, Pat Johnson, ... all the Fights Coordinators, Choreographers... sorry for all those that I forget and yet appreciate...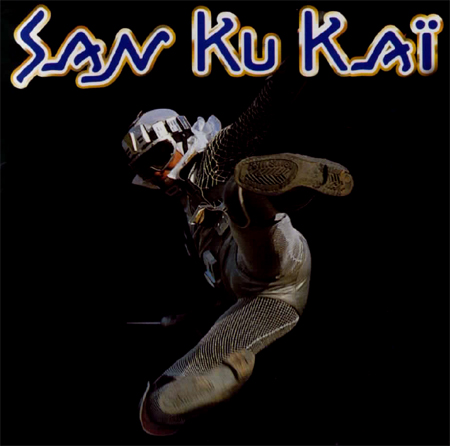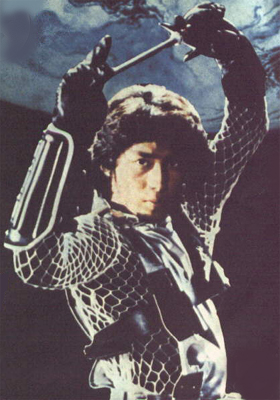 If you're not too old ;-) you'll remember the Japanese serie entitled Uchuu Kara No Messeji (or Message from (outer) Space, in France broadcast under the title "San Ku Kai") with Hiroyuki (Henry) Sanada (aka "Ayato").


French
Soundtrack
(2m37s) (1,2Mo) (wav) of the serie as broadcast in France in the eighties.
Brandon Lee, Bruce Lee's son was both a genuine actor and a exceptional martial artist.
Mark Dacascos, famous Kung Fu pionneer Al Dacascos' son, in Crying Freeman, directed by Christophe Gans.
Rickson Gracie grappling in a Vale Tudo fight in Japan (against Nakai).
Jimmy Pham, a young specialist of NASKA artistic forms.
Li Lian Jie AKA Jet Lee (or Jet Li) in Fongsai Yuk, several times China National Wushu Champion, is famous for his role in Lethal Weapon, part 4, but he made dozens of impressive movies thanks to his exceptional martial skills.
Mini Video (8s) (1,4Mo) (mpeg) : Jet Li in Shaolin Temple (1st scene).
Mini Video (8s) (1,4Mo) (mpeg) : Jet Li in Shaolin Temple (form).
---
[Homepage] [Martial] [Essays] [Gallery] [JKD] [Christophe Pinna]
[M.A. List] [Sentai] [Links] [Help Me] [Contact]
Kamikaze Productions