"Empty your mind, be formless, shapeless, like water.
Now you put water into a cup, it becomes the cup.
Put it into a teapot, it becomes the teapot.
Now water can flow, or creep, or drip, or crash.
Be water my friend."
cf Bruce Lee
BRUCE LEE's Jeet Kune Do way of fighting/thinking,
Between oriental and occidental philosophies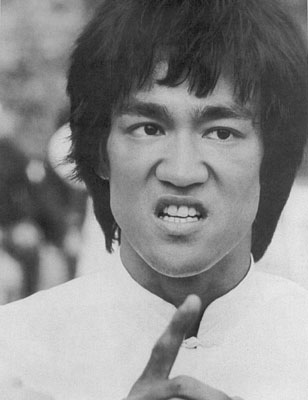 Bruce Lee, Bruce Lee, Bruce Lee, always Bruce Lee ! Yes, always Bruce Lee. But why ? Because of his movies ? No, Jackie Chan (or many others) are doing very good movies too. Because of his death ? For sure, it helps to build a legend, but a lot of "famous" Martial Artists die and disappear from people's mind. Because of what, so ? Because of the knowledge he let us. Bruce Lee is an idea, a concept, or better, an ideology, a conception. Bruce Lee brought to Martial Arts what Spinoza or Descartes brought to Philosophy : freedom. The idea is simple : Martial Arts, like life is a personal way, so you must build it by yourself. So you need to make choices, the right choices for you. And to make the right choices, you have to test, to criticize, and finally to "absorb what is useful" (cf Bruce Lee). There are no Way to follow, but one Way which is YOUR Way. Styles are important because they own some parts of the Truth, of the Efficiency spirit, so you have to learn them, to know them and to take the "substantifique moelle" (cf Rabelais) but Bruce Lee said they were "cristallisation", sclerosed by venerating disciples of a dead master. Lee's philosophy is huge, interesting, and open-minded. But it's disturbing for a single Black Belt who only swears by his style. Accepting being disturbed and daring to throw back into question is the basics of classical occidental philosophy, isn't it ?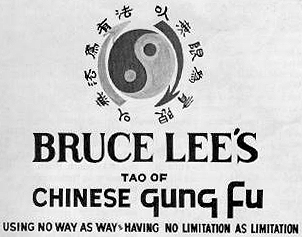 But if Bruce Lee succed in imposing his way of thinking, it's not only because it was grounded on serious thoughts, but also thanks to his strong personality. His expression was so tough, so determinated, that he could transmit his efficiency. A Japanese legend describe the perfect combat as a non-combat, when both fighters know before fighting who will win. Bruce Lee got that in his eyes. "L'esprit guerrier". And his technique was really exceptional :
Click to enlarge the photos
The Game Of Death, jumping side kick to Kareem Abdul Jabbar (>2m) : to me, the nicest photo of the world of Martial Arts, many symbols inside.
The Game Of Death, roundhouse kick to Kareem Abdul Jabbar. Flexibility...
The Game Of Death, choke (hadakajime) to Kareem Abdul Jabbar. Grappling is not to be forgotten. UFC taught us that too.
The Chinese Connection (AKA Fists Of Fury), jumping side kick to a Japanese aristocrat. "No Dogs And Chinese Allowed" ...
The Chinese Connection (AKA Fists Of Fury), jumping side kick during the battle within the Japanese Dojo.
1964 Long Beach Ed Parker's Tournament : Bruce Lee demonstrates his 1 inch power punch and is remarked by influent people.
Audio (8s) (163Ko) (wav) from Enter The Dragon.
Vidéo (8s) (1,4Mo) (mpeg) from The Game Of Death
---
[Homepage] [Martial] [Essays] [Gallery] [JKD] [Christophe Pinna]
[M.A. List] [Sentai] [Links] [Help Me] [Contact]
Kamikaze Productions